Conveyor drying uses a perforated belt to transfer feed materials through the dryer. Heated air is either passed under and through, or over and through the belt and product bed before being reheated and re-circulated. Units are normally multi zoned and may have differing airflow's in successive zones. Additionally each zone may use a different temperature profile and control. Saturated or close to saturated air is exhausted from the dryer via a central exhaust duct.
Conveyor dryers may be multi pass units, in which the feed is transferred from one belt to another belt below it by gravity. These dryers are usually two or three pass machines. Additionally certain conveyor dryers, such as those used in vegetable dehydration have multiple belts in line, and the feed is transferred from one belt to another.
SAKAV's experience in the design and manufacture of conveyor ovens has resulted in a wide range of units. Electric gas and steam heated units with operating temperatures from 650C to 6500C, have been created for all fields of industry.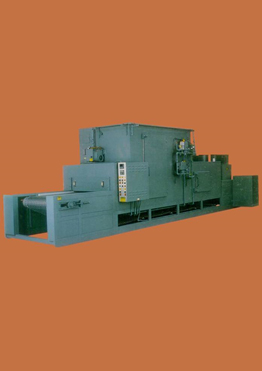 Each unit is specifically designed for the customer's process and can include:
Multiple heat zones
Extended loading and unloading zones
Special belt construction or attachments
Cooling zone to reduce part temperature
Standard Features
Multiple heat zones
Extended loading and unloading zones
Special belt construction or attachments
Cooling zone to reduce part temperature
Aluminized or stainless steel interior depending on maximum temperature rating.
16 gauge aluminized steel exterior with enamel finish
Welded structural steel, channel base provides a rigid assembly easily moved at any time.
Heavy duty, all welded, structural steel slide bed is supported by cross angles welded to vertical structural members to transfer load to base
Belt slide bed herringbone construction provides for even belt wear.
Side hinged doors provided along oven length for access to work space and heat chamber.
Heavy duty variable speed belt drive with torque limiting device
Belt tracked and guided as necessary with rollers to prevent wandering and potential belt damage
Adjustable dampers at each end of heat zone can be positioned near load to minimize heat loss from end of oven.
Adjustable patented opposed louvers on full coverage supply and return ductwork.
Duct work removable for cleaning
Brushed stainless steel control panel face
1 year limited warranty